Getting Fit Without Grunting Gym Men
AMY KUMAR
Every New Year's we pop a cold one, raise our right hand, and speak our first lies of the year. "This year I will exercise more." I did the same thing at the start of 2018, then proceeded with my favorite activity of binge-watching Netflix and creating masterpiece grilled cheeses with jelly. Appalled? Read the Yelp reviews below:
"The best I ever had." -Drake
"Better than my boyfriend." -S. Ganta
"Finally some good food." -Gordon Ramsay
So after you've eaten approximately ten of these bad boys, you look down at your belly and realize that mistakes were made. You wanted abs but instead you just grew flab. Time to hit the gym and get back to feeling like a healthy vegan food goddess (the ones you see at Whole Foods) instead of feeling like a literal grease cook covered in stale Canola oil.
You hit up good ol' Gregory Gym, only to discover that the unspoken social hierarchy in the weight room is too much for a Monday, Tuesday, Wednesday and frankly all other days. Picture this: the grunting frat guys hulking up for their next Avengers role as they slam the weights down and yell "You lift bro?", the ladies in matching neon Lulu's who are secretly looking over at your calorie count on the elliptical, and the freshmen kiddos trying not to crease their Nike's as they move from machine to machine in groups of no less than ten squad members. Meanwhile, you've burned a grand total of .2 calories in the thirty minutes you've been slaving away on this elliptical. Wasn't exercise supposed to give you endorphins and turn you into J. Lo.?
Here are some of my personal favorite alternatives:
Gregory Gym-Texercise Program
Hey at least it's not the weight room. The program is relatively cheap and offers a multitude or group classes like Pilates, Yoga, Zumba and much more.
Gold's Gym- Zumba
Zumba is fun way to burn two million calories and dance around for an hour. And it's only a few minutes from campus so you won't see anyone who will post you dancing and ruin your chances of running for office.
Omni Fight Club- Fight me
Best way to destress? Hit something. Located in west campus, this boxing studio doesn't require you to actually fight people so your face and fresh mani is still insta worthy. And now so are your abs. Totally broke the first rule of fight club.
Orangetheory Fitness
Okay you're basic if you work out here, but absolutely guilty. This place makes you "werkkkkk" and you leave half dead but happy. The bright orange studio mixes running, rowing and weight training into a 60 minute workout from hell, but leaves you with the best endorphin rush and a body like RiRi.
Walking up the stairs next to Welch all the way up to the Tower
Cheaper alternatives with views of the….(if you know, you know)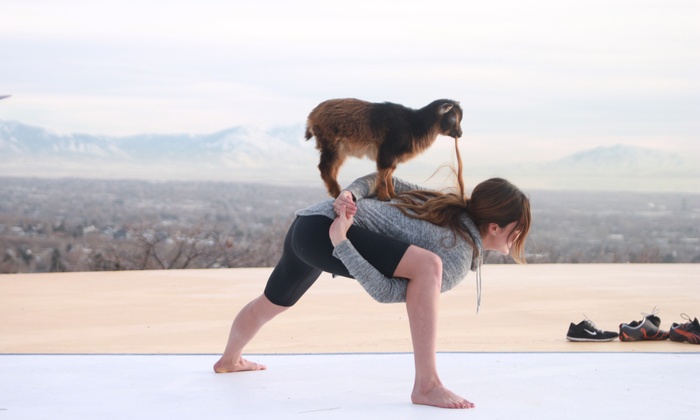 GOGA- Goat Yoga
Best. Thing. Ever. You get to cuddle with baby goats while doing downward dog. 'Nuff said.
Paddleboarding and Kayaking
Paddleboard/Kayaking
Get outside on Lady Bird Lake and work those arms while looking at the serene water or puppies in life jackets on people's paddleboards.
Black Swan Yoga
This Vinyasa and Flow hot yoga classes are donation based and give off hip Austin cool indie vibes. You leave welcoming the cool air and clear headspace.
Classpass
This cheap app gives you access to all the workout classes you could ever want in Austin such as barre, African dancing, pilates, aerial yoga and even pole dancing. So if you ever want to drop out, your alternative career paths still stand.
Go forth and claim those abs!