Freshmen Tales of a Hackathon: HackTX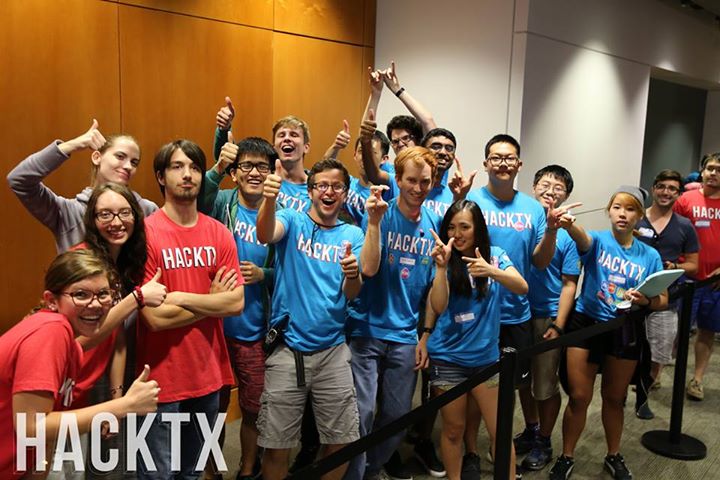 EMMA ZAWILA Saturday night. Sixth street overflowing. Parties raging. Most importantly — hackers hacking, at the most crowded event of the night: HackTX.
HackTX is a big deal. People come from all over Texas to participate in the event. For twenty-four hours, small teams form to work on ideas and formulate a project before the end of the event. With caffeine palpable in the air and free food given out like cars at an Oprah live show, perhaps the most exciting part of HackTX is the atmosphere.
When asked what her favorite part of HackTX was, freshman Johnny Colby answered, "The people you get to know. We all share a common interest and meet people who are also passionate about computer science." Many incoming freshman had never seen this many people coding together, with mentors on-call to lend a helping hand. Another freshman stated, "I had always coded alone in high school. There just simply wasn't anything like this."
We all share a common interest and meet people who are also passionate about computer science.
Walking around the Student Activity Center at 2 AM, you'd witness participants with dark bags under their eyes pull hair out over a bug in a nearly-finished app — but there was no questioning they were enjoying every minute. Even during the most frustrating moments of people's projects, they still were happy to start a conversation about what they were creating or perhaps even join you for a quick Red Bull.
No matter if you were a mentor or a programmer, everyone had fun. The photobooth allowed for some regrettable photos to be taken, the company tables allowed for possible internship and networking opportunities, and the closing booths allowed for everyone to showcase what they made.
However, some freshman felt they were too inexperienced to be able to code anything impressive. Freshman Harsh Goyal said before the event, "I don't expect to win something, but I expect to learn," a common attitude in many of the participants that fostered an encouraging environment rather than a cut-throat one. The lax environment allowed for crazy, fun ideas to be implemented, as demonstrated by freshman Srija Seenivasan and her group, who created an Android App to track down the famous UT albino squirrel. Each user would take a picture of the squirrel and a map would be generated showing the last known location of the squirrel.
"We didn't actually submit the project because we wanted to perfect it before it went onto the market. Yet, I learned so much about xml and Android Studio development, so I found it extremely useful, even though that money prize would definitely be ours."
There were some who didn't do app development but joined other design projects. A freshman Angelo Cioffi said, "After brainstorming on different ideas for 18 hours, I realized I didn't have anything done. Instead, I just got to see all the cooler stuff that people made around me and ended up joining one of these projects to make a miniature version of the UT Tower that would turn orange whenever the real tower did to keep alumni updated."
Whether you're in it for the free food and shirts, or for twenty-four hours of caffeine-driven coding, hackathons are a place for everybody. Next time you're wondering what to do on a Saturday night, consider forming your own hackathon group and work on making something you've never made before!